Same Plusy!
Niepodam.pl nie wymaga rejestracji, aktywacji, nie wysyła SPAMU!
Nie dostaniesz spamu na swoją prywatną skrzynkę E-mail
Nigdy nie usuniemy Twojej skrzynki i będziesz mógł przypomnieć sobie hasło do innej strony kiedy chcesz
Używając aliasów nikt inny nie będzie wiedział jakiego użyłeś loginu do naszego serwisu
Nowe! W dowolnym formularzu rejestracyjnym użyj adresu rozpoczynającego się na a_ (np. a_tomek@niepodam.pl) a Twój link aktywacyjny zostanie automatycznie kliknięty.
Why it's so hard to find a bargain stock these days
Wiadomość od:

noreply@mail.bloombergbusiness.com


odebrana:

2021-01-14 12:46:15
Treść wiadomości:
One of the most difficult things about investing in stocks is trying to find a bargain.
It used to be that savvy stock pickers would pore over company financials and corporate-intelligence reports to uncover firms whose shares were priced too low. This is the strategy of "value investing" that Warren Buffett made famous. "As it turns out, that strategy has been hugely successful historically," Bloomberg Opinion's Nir Kaissar said.
Somehow, though, it all fell apart after 2007, and people have been trying to figure out why — and how to turn things around.
Kaissar outlines the strategy's implosion in an excellent, three-part series this week with a ton of charts that is very much worth your time. (1, 2, 3.)
In part one, you'll learn just how bad it's become. "The last three years ending in September were an utter disaster," Kaissar said.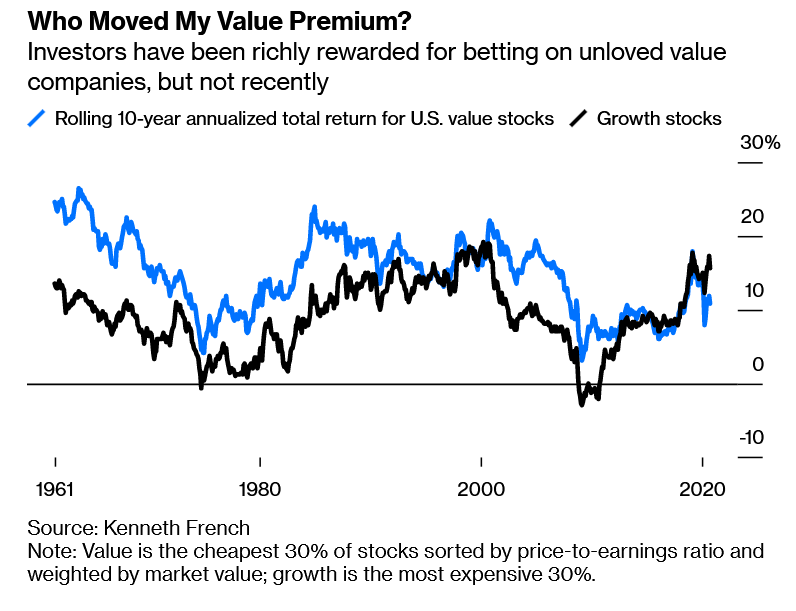 Next, you'll get a sense of why a strategy that was bankable for so long sputtered. There are lots of theories about the decline of value investing, but the conventional wisdom doesn't stand up to scrutiny.
It's not all doom and gloom. The final installment makes the case that value investing will be back.
And for some lighter investment fare, be sure to check out our guide to hot alternative investments in 2021. We tell you why you might want to take a look at cask whisky and identify a few other trends, such as artists' music catalogs. In fact, two days after our story ran came the news that Shakira sold the rights to her catalog. — Charlie Wells   
Don't Miss
What We Did Recently With Our Money
A bout of forgetfulness helped save me some money. I got busy while I was shopping online and left some items in my cart on various sites. The companies emailed me to offer discounts to complete my purchase. It varied by site, with discounts ranging from 10% to 15%. Others offered a set dollar amount off. In one case, the savings amounted to A$75 ($58) off a total spend of A$750. This appears to be a common marketing strategy to capture undecided customers, and in total it saved me about $150 this year. That's not a huge amount of money, but I didn't really have to do anything for it. If you don't need something right away, keeping those items in your cart for a day or two might leave you pleasantly surprised. — Vicki Thompson
Opinion
In Bloomberg Opinion this week, David Fickling says Bitcoin's bulls should fear its other scarcity problem:
When the value of all Bitcoin outstanding was measured in the tens or hundreds of millions, a minuscule shift of money away from the $217 trillion world equity and bond markets into digital currency would be sufficient to make its price go wild. If investors in aggregate decide to put just 0.1% of their stock and bond portfolios into Bitcoin right now, that represents an additional $200 billion or so chasing the same pile of 18.6 million coins that have been mined to date — enough to push the price well over $40,000. In that sense, the roller-coaster ride that Bitcoin has ridden in recent years looks almost sedate.
You Ask, We Answer
After my mother passed away recently she left everything to my sister and me in equal amounts in her will and living trust. She very thoughtfully gave us many of her accounts and passwords and we can see we are listed as beneficiaries on almost all of these accounts. However, I'm wondering if the trustee (a close family friend) is responsible for sending the death certificates and documentation to these accounts, or if I can do this as the beneficiary? This includes retirement, checking and savings accounts. I have been doing some research but see conflicting information here. — Michael Thiel, Alexandria, Virginia
My condolences on your loss. If you know you are a primary beneficiary of an account, you are within your rights to get the process moving for those accounts that are neither titled in the trust nor subject to probate. These could include retirement accounts, life insurance policies, or annuity contracts.
Assets not titled in trust or without a designated beneficiary would be subject to your state's probate. You wouldn't be able to access them until the executor or executrix of the estate has cleared probate. Assets titled in the trust would be the responsibility of the trustee. So if you are a beneficiary of the trust, not a named primary beneficiary of an account such as the ones mentioned above, you would need to coordinate with the trustee for distributions based on the trust agreement.
Note that it is not okay to use passwords of the deceased to gain access to their accounts. There are many civil and criminal rules against this. Best of luck. In the event that there is confusion or a dispute, consult an estate planning attorney. — Samuel Boyd, senior vice president, Capital Asset Management Group
Send us questions about your own financial dilemmas to bbgwealth@bloomberg.net.
Coming up
Friday is the U.S. deadline for estimated fourth-quarter tax payments for people whose employers do not withhold taxes from their earnings.
Monday Singapore reports its non-oil domestic exports for the month of December. In November, exports contracted on a slump in shipments to China. 
Brexit and the Covid-19 pandemic have focused attention in Britain on inflation. On Wednesday we'll get a sense of consumer prices with the publication of U.K. data by the Office for National Statistics.
You received this message because you are subscribed to Bloomberg's Bloomberg Wealth newsletter.
Unsubscribe | Bloomberg.com | Contact Us
Bloomberg L.P. 731 Lexington, New York, NY, 10022