Same Plusy!
Niepodam.pl nie wymaga rejestracji, aktywacji, nie wysyła SPAMU!
Nie dostaniesz spamu na swoją prywatną skrzynkę E-mail
Nigdy nie usuniemy Twojej skrzynki i będziesz mógł przypomnieć sobie hasło do innej strony kiedy chcesz
Używając aliasów nikt inny nie będzie wiedział jakiego użyłeś loginu do naszego serwisu
Nowe! W dowolnym formularzu rejestracyjnym użyj adresu rozpoczynającego się na a_ (np. a_tomek@niepodam.pl) a Twój link aktywacyjny zostanie automatycznie kliknięty.
5 things to start your day
Wiadomość od:

noreply@mail.bloombergbusiness.com


odebrana:

2021-01-14 12:48:43
Treść wiadomości:
Impeachment moves to Senate, Biden to unveil stimulus plan, and claims data due.
Trial 
Senate Majority Leader Mitch McConnell will not allow the impeachment trial of President Donald Trump to begin before Joe Biden takes office on Jan. 20. There are several complications after that date, with Democrats likely to be keen to get down to the business of the new administration, while there is little to indicate yet that Trump would actually be convicted. The president released a statement and video yesterday in which he sought again to distance himself from last week's events and called for no more violent protests. 
Stimulus 
President-elect Joe Biden will tonight unveil a Covid-19 stimulus package that could be as big as $2 trillion. The plan will include direct payments of $2,000, extending unemployment benefits, money for state and local government and tax credits, according to congressional officials. While Biden has said that he is seeking the support of Republican lawmakers in passing the package, Democrat control of all three branches of the legislature means he does not require it to pass his plans. 
Paid Post
Innovation loves company.
Meet the three new members of the Invesco QQQ family.
QQQJ. QQQM. IVNQX. 
Claims
Economists expect initial jobless claims to remain elevated when the data is published at 8:30 a.m. Eastern Time this morning. Almost 800,000 new claimants registered last week, according to the median estimate of economists surveyed by Bloomberg, with continued Covid restrictions meaning there is little sign of improvement in the near future. Fed Chair Jerome Powell's speech later and read on the economy will be closely watched as the bond market starts to think about Fed tapering. 
Markets rise
Expectations that Biden's stimulus package will be close to $2 trillion is helping lift global equities. Overnight, the MSCI Asia Pacific Index added 0.3% while Japan's Topix index closed 0.5% higher. In Europe, the Stoxx 600 Index was 0.3% higher at 5:50 a.m. with automakers among the best performers. S&P 500 futures pointed to a small rise at the open, the 10-year Treasury yield was at 1.11%, oil rose and gold dropped.
Coming up...
As well as claims data, December U.S. import and export prices numbers are at 8:30 a.m. Atlanta Fed President Raphael Bostic, Dallas Fed President Robert Kaplan and Boston Fed President Eric Rosengren join Powell on today's roster of monetary speakers. Blackrock Inc. and Delta Air Lines Inc. are among the companies reporting earnings. 
What we've been reading
This is what's caught our eye over the last 24 hours.
And finally, here's what Joe's interested in this morning
Yesterday morning, we got the news that struggling American chip giant Intel is replacing CEO Bob Swan. Then overnight, rival manufacturer Taiwan Semiconductor announced strong earnings, and plans to spend as much as a staggering $28 billion to expand manufacturing and solidify its tech dominance. As Bloomberg Opinion columnist Tim Culpan puts it, with this aggressive capital expenditure plan, Taiwan Semi is going in for the kill.

You can see in the one-year stock chart of the two companies the degree to which their fortunes are diverging.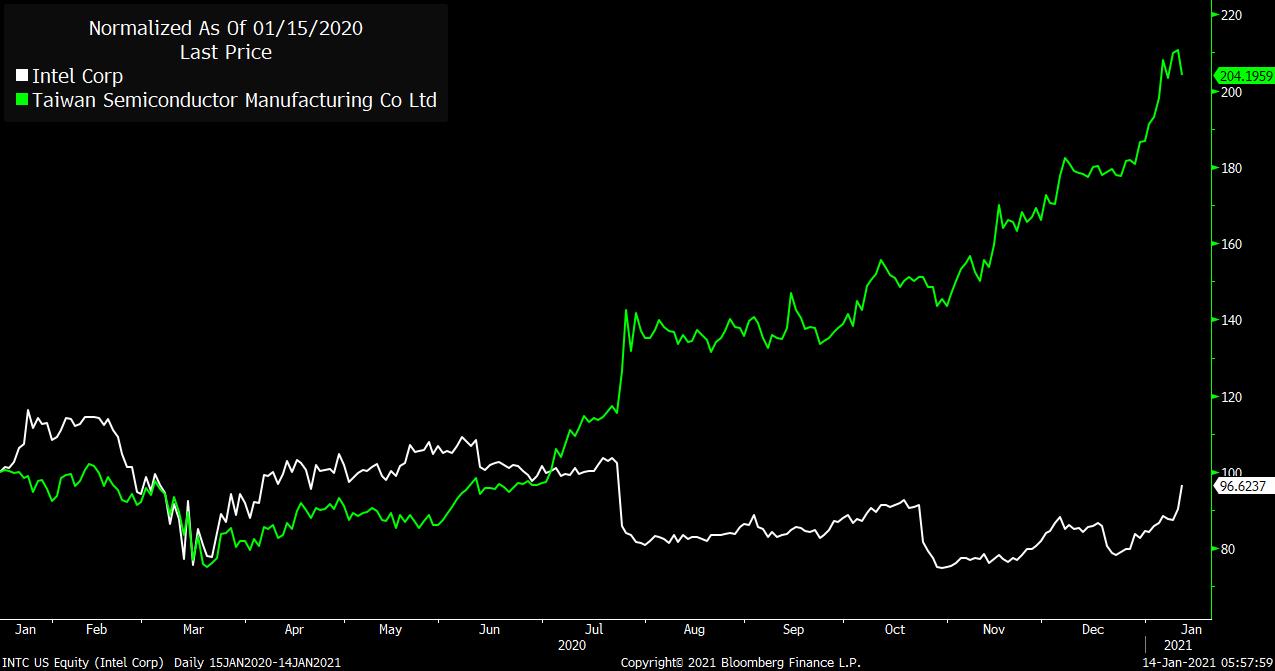 It's hard to think of any other industry this interesting or important right now. Everything is built atop semis. Even the car industry is having troubles due to a shortage of chips. Meanwhile, Taiwan sits at the intersection of U.S.-China tensions, so in addition to its central role for so many businesses, the industry is of high geopolitical significance.

It's not our normal fare, but on our podcast Odd Lots, Tracy Alloway and I have been focusing a lot on the industry for this reason. The latest episode is out today, an interview with HBS professor Willy Shih, on the roots of U.S. decline, and what can be done to revive the industry. Previously we looked at Intel-specific troubles, as well as what the next generation of chips is looking like. Two more episodes are coming up. One specifically looking at the rise of Taiwan Semi, and another one looking at where China's homegrown industry stands, and the challenge of building up a new homegrown industry.
Joe Weisenthal is an editor at Bloomberg.
Like Bloomberg's Five Things? Subscribe for unlimited access to trusted, data-based journalism in 120 countries around the world and gain expert analysis from exclusive daily newsletters, The Bloomberg Open and The Bloomberg Close.
You received this message because you are subscribed to Bloomberg's Five Things newsletter.
Unsubscribe | Bloomberg.com | Contact Us
Bloomberg L.P. 731 Lexington, New York, NY, 10022