Same Plusy!
Niepodam.pl nie wymaga rejestracji, aktywacji, nie wysyła SPAMU!
Nie dostaniesz spamu na swoją prywatną skrzynkę E-mail
Nigdy nie usuniemy Twojej skrzynki i będziesz mógł przypomnieć sobie hasło do innej strony kiedy chcesz
Używając aliasów nikt inny nie będzie wiedział jakiego użyłeś loginu do naszego serwisu
Nowe! W dowolnym formularzu rejestracyjnym użyj adresu rozpoczynającego się na a_ (np. a_tomek@niepodam.pl) a Twój link aktywacyjny zostanie automatycznie kliknięty.
How Much Do Central Banks Fear the Bond Toddler?
Wiadomość od:

noreply@mail.bloombergbusiness.com


odebrana:

2021-02-23 09:18:15
Treść wiadomości:
| | |
| --- | --- |
| Follow Us | Get the newsletter |
Parenthood and Central Banking
If capital markets can be likened to spoiled and obstreperous toddlers — and they can — then the job of the central banker is to be the harassed parent. As a parent, you have to inculcate sufficient discipline while also making sure that the youngsters can stand on their own two feet, and accepting that they will gain their liberty.
The next episode of difficult parenting is upon us. Bond yields have shot up (from very low levels) across the world so far this year. This reflects confidence that vaccines really will bring an end to the pandemic, whatever their teething problems, and that there is plenty of pent-up demand to be released. Markets are looking for a parental response. Central banks have said they are going to leave rates lower for longer this time. Do they really mean it? If yields go up half a percentage point in short order (the monetary equivalent of threatening to scream until you're sick), will central banks relent at the risk of an even bigger tantrum next time, or opt to draw the disciplinary line, and put up with the screaming?
We've had two skirmishes between central bankers and markets already this week, with another to follow Tuesday as Federal Reserve Chairman Jerome Powell testifies to Congress. So far, it looks as though all of them will opt for giving the market what it wants, and risking spoiling the child.
Australia provided the first test case. Ten-year yields had rallied by 50 basis points in a matter of weeks, while three-year yields had risen above the 0.1% that the central bank had been targeting. Monday saw the Reserve Bank of Australia announce that it was resuming bond-buying after a two-month hiatus, even though the economic news in Australia is good, with a successful record in containing the pandemic of late combining with a rally in commodity prices to improve the nation's prospects. Australia, exposed to China and with a commodity-dominated economy, is a natural place to see the arguments over reflation play out first, and the incident was widely watched around the world. Initially, the RBA succeeded in bringing yields down, but they remain elevated compared to their target: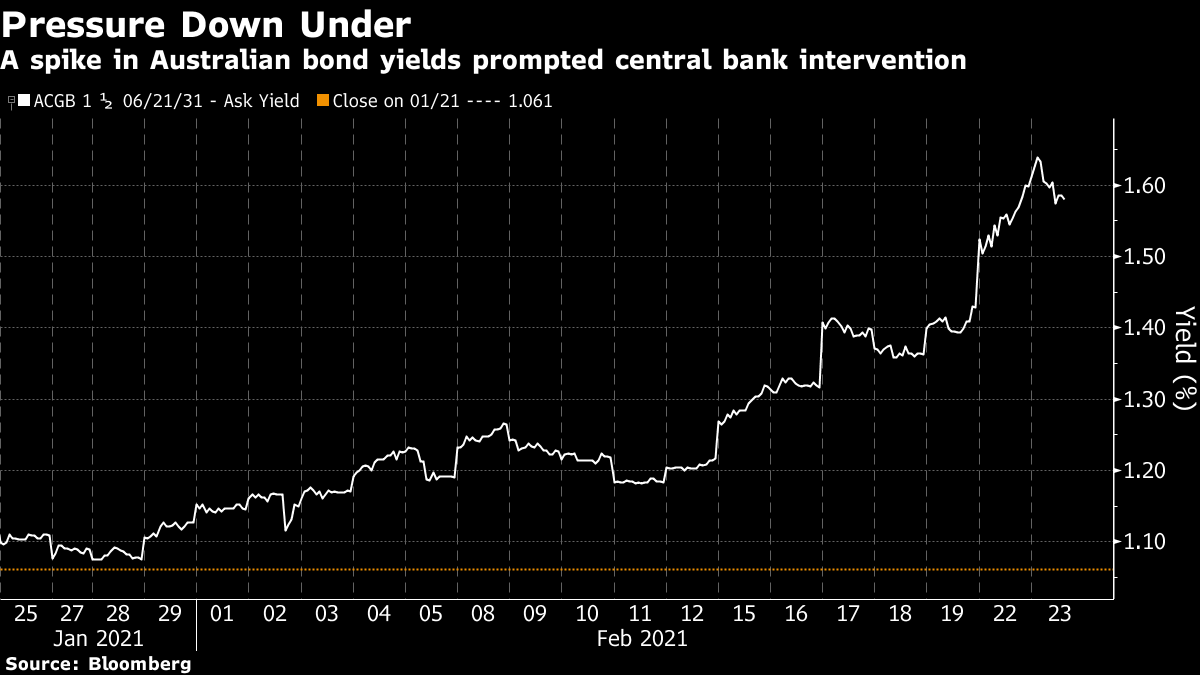 Later on Monday, Christine Lagarde of the European Central Bank addressed the sharp rise in euro-zone bond yields. This may be an increase from a low position, but she has reason for caution. The euro area's vaccine rollout has got off to a bad start, and much of the region needs stimulus. A jump in 10-year bund yields, even to a level of minus 0.3%, was enough to draw a response. 
She told the European parliament that the ECB was would maintain "favorable financing conditions" throughout the pandemic period. "Banks use those yields as a reference when setting the price of their loans to households and firms," Lagarde said. "Accordingly, the ECB is closely monitoring the evolution of longer-term nominal bond yields."
These are anodyne comments as far as they go. Of course a central bank needs to keep an eye on long-term bond yields. It would scarcely be doing its job if it didn't. But they showed that the ECB was worried enough to resort to jawboning yields down when they were still comfortably negative, which is what the market wanted to hear. As a result, bund yields dropped by some 5 basis points. If the excitement about reflation is to be believed, and Germany makes a lot of money by exporting manufactured goods to China, this shows a lot of confidence in the ECB to keep money very cheap: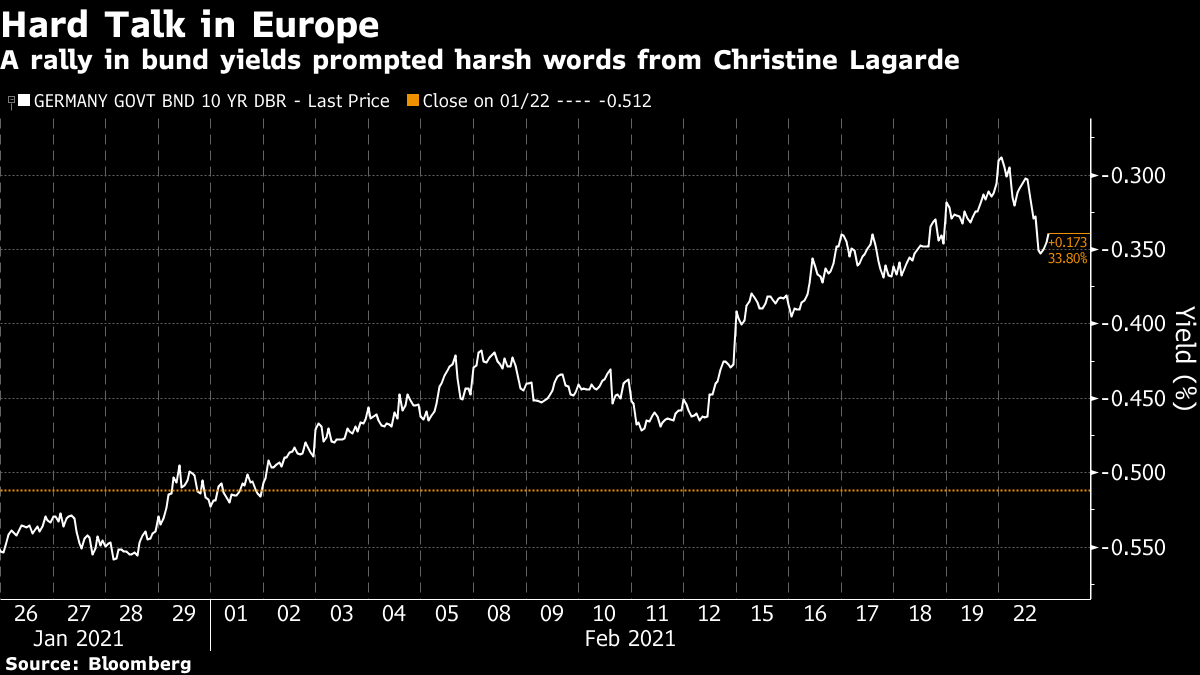 It is now Powell's turn to try to find the right balance. The role of the Treasury market is particularly important — sudden moves higher in yields, or in the dollar, have the capacity to mess up the emerging world, as demonstrated spectacularly during the "taper tantrum" of 2013, when the mere discussion of diminishing the Fed's support for the market led to sharply higher yields and put serious pressure on emerging market currencies. The same happened again when the Fed actually tapered support in 2014 and 2015. In the U.S., 10-year Treasury yields have rallied by some 50 basis points in less than two months. That leads to the widespread presumption that Powell will have to say something to pacify the markets when he talks to Congress: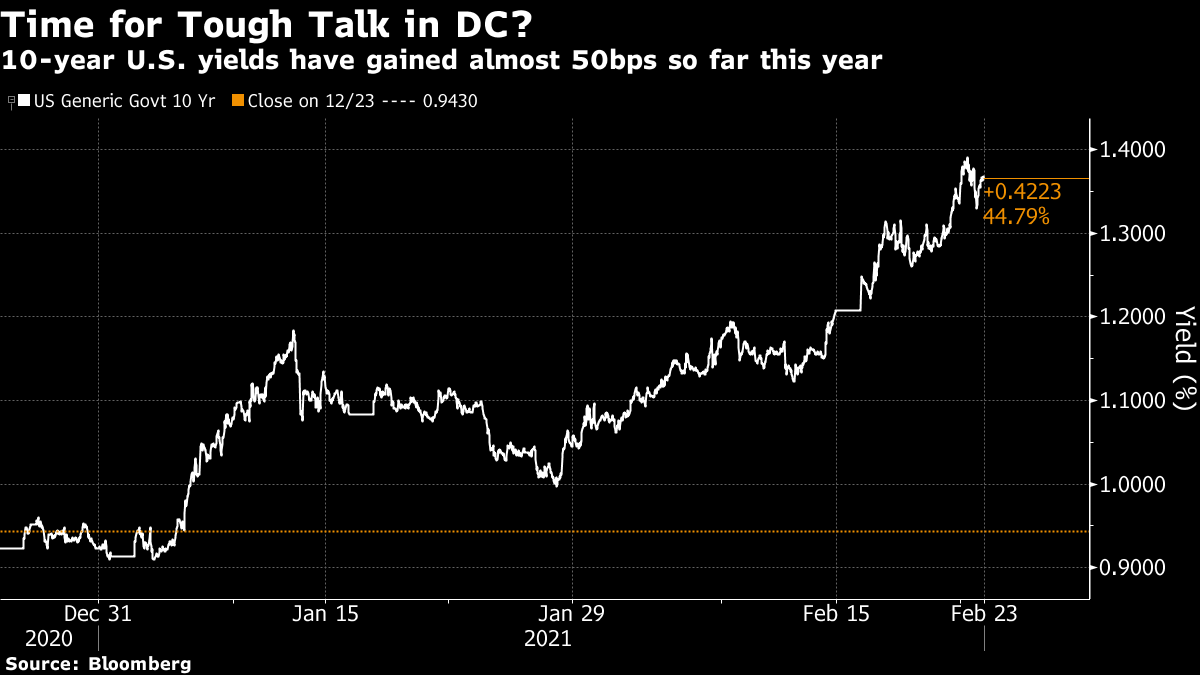 This is a fair expectation for perhaps three reasons:
The Fed is going to err on the side of caution until it is confident that the pandemic is no longer having an effect on the economy. The U.K.'s Boris Johnson, blessed by a swift vaccine rollout, said on Monday that Britain wouldn't return fully to normal, with night clubs and sports venues open, until June at the earliest. That implies that the U.S. is unlikely to be out of the woods until the end of the summer. The Fed has given itself little choice but to lean on the side of dovishness (or alternatively of spoiling the toddler) until then.
Whatever mistakes the central bank makes, it is not going to repeat the same ones it made last time. The following chart from Steve Blitz of TS Lombard shows the Fed's target rates, inflation and unemployment during the last tightening phase from 2015 to 2019. In retrospect, it was unnecessary: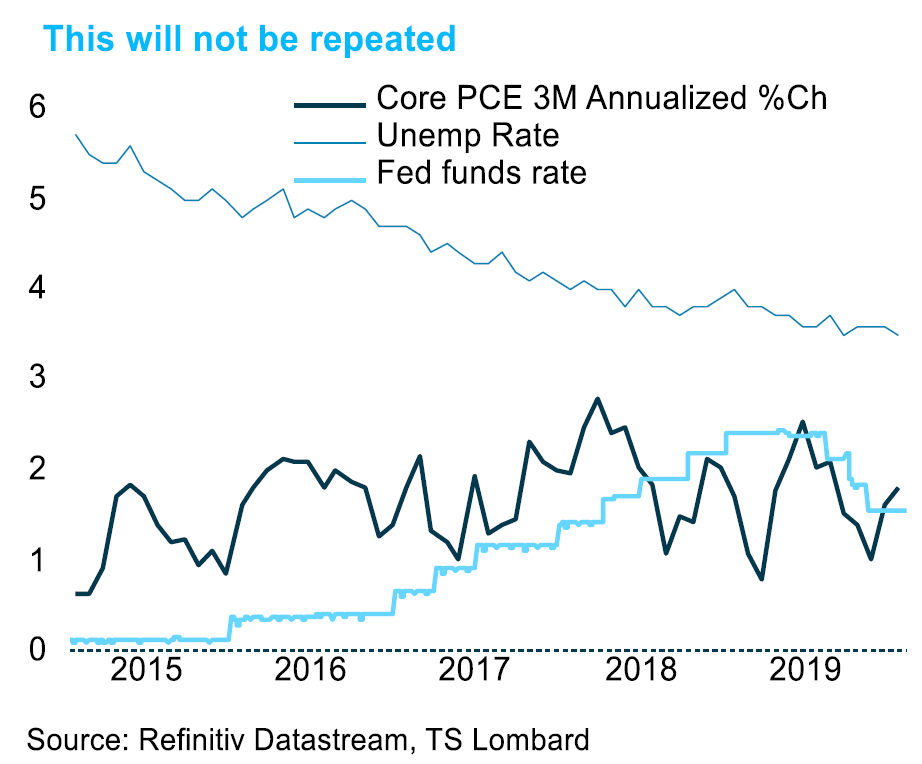 Perhaps most importantly, the stroppy toddlers that bother the Fed most are traders in equities, not bonds. The Fed wants to keep asset prices high, and has shown no interest in intervening to pop the obvious froth appearing at the edge of the market. High stock prices owe much to low bond yields, and the governing fear for months has been of a spike in yields that brings equities down. For the time being, the stock market is treating the increase in yields as a symptom of an unambiguously positive global reflation.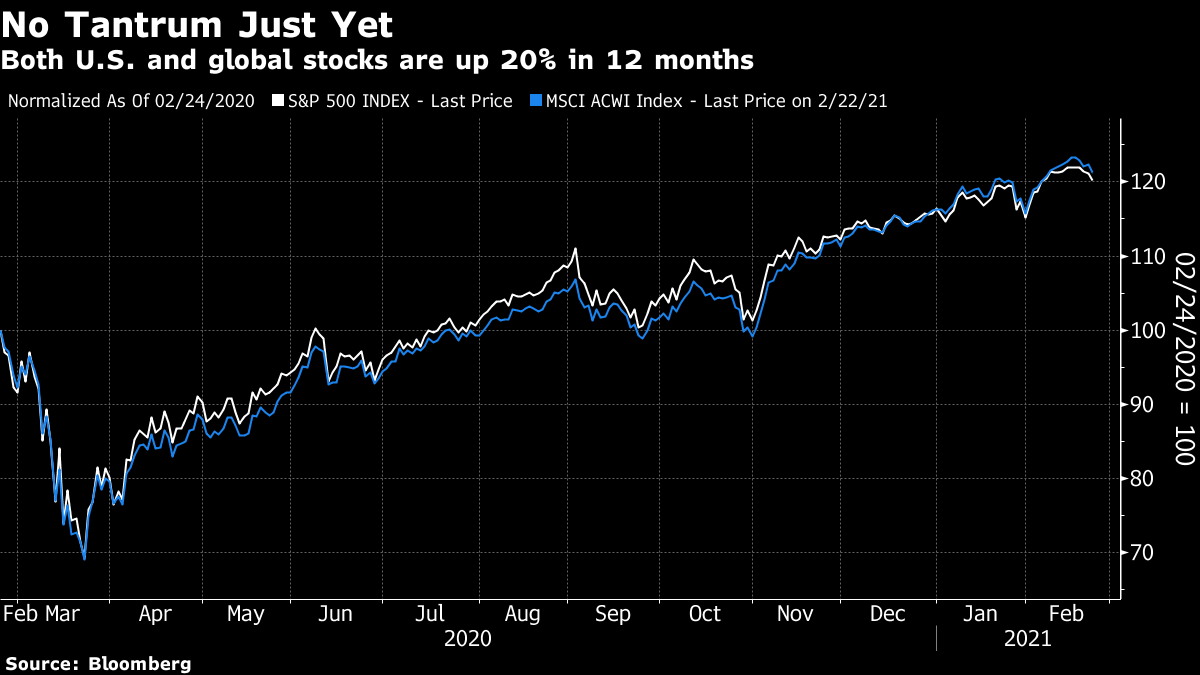 There is a rotation going on within the market, but it isn't affecting the overall level of equities. While this continues to be true, the Fed won't be too alarmed. It is when bond yields have risen too much for the stock market that they will also have risen too much for the Fed. So the chance of any fresh policy action or new money that hasn't already been announced is very low. But equities may well have proved just restive enough in the last few weeks, in combination with the marked move in the bond market, to coax some calming words from Powell — even if he isn't yet going to go the lengths of buying the equity market a new iPad.
Lead Us Not Into Rotation
Meanwhile, Monday's trading saw the sharpest move toward reflation and the strongest conviction that vaccines will end our troubles in more than three months. Momentum stocks (those that have been winning recently) had their worst day compared to value companies (which look cheap compared to their fundamentals) since "Vaccine Monday" on Nov. 9, when Pfizer Inc. announced its positive trial results. In the U.S., value stocks, which should benefit most from an economic revival, have now outpaced momentum since last June: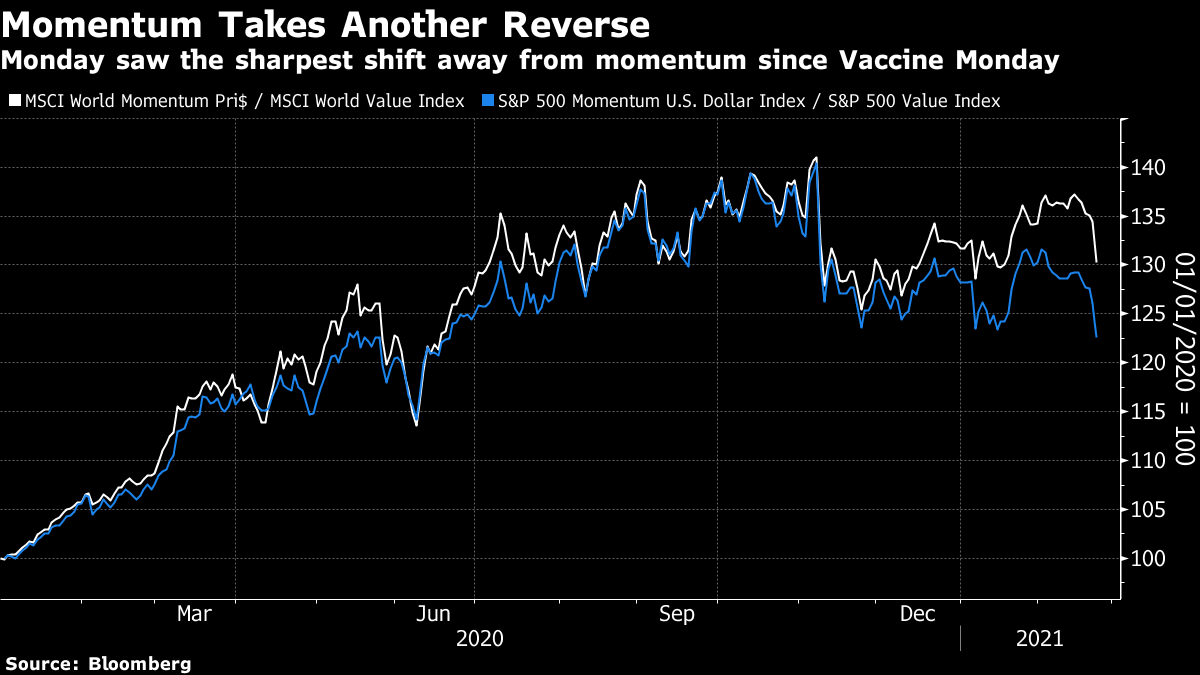 The technology sector has been the greatest beneficiary of momentum, as it is perceived to be relatively immune to the pandemic. But the S&P 500 information technology sector peaked compared to big banking stocks (which stand to benefit from higher yields) almost six months ago, in the first week of September. The rotation toward banks is now strongly under way: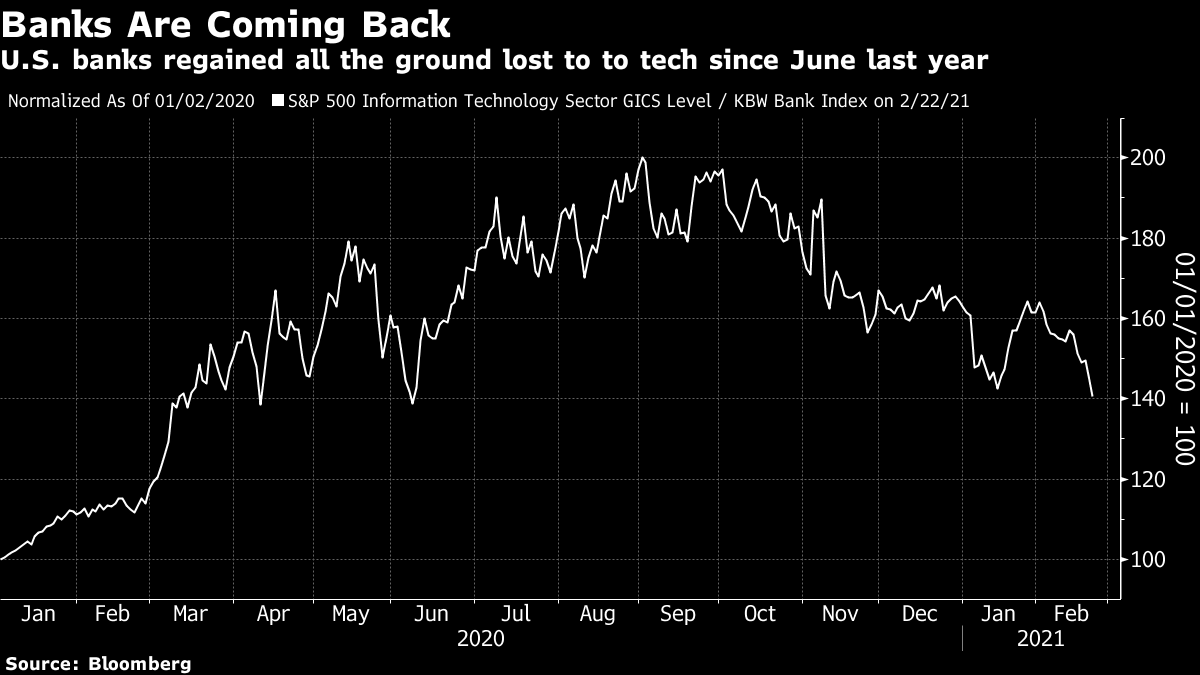 As for the sectors hurt most grievously by the pandemic, airlines and hotels are at their highest levels since last March. In both cases, their declines since the beginning of last year are now below 20%. Given the extent of the damage, this is quite impressive — particularly in the case of airlines, which might also be expected to take a hit from the rising cost of fuel caused by crude's rally:
This rotation is coming at the cost of some companies that did best out of the pandemic, but few should complain. As it stands, the market shows ever higher conviction that the pandemic's end is in sight. It also shows a strong belief that rates will stay relatively contained despite the reflation that lies ahead. Both of those contentions will be tested as the year goes forward; it is far too early for central banks to start signaling any intention to get tougher on rates, or to try to rein in inflation. 
Vaccine Is Contagious
One survey that caught my eye provides greater cause for hope about the vaccine, though also suggests that getting over logistical difficulties quickly could be essential. Reluctance to have the shot is dominated by those who don't know anyone who's had it already, according to the study quoted by Goldman Sachs Group Inc. Whether friends act as a reassurance or legitimator, or because there is a desire to "keep up with the Joneses," enthusiasm for the vaccine appears to be contagious. The best way to overcome vaccine hesitancy may be to press ahead and show that the campaign works: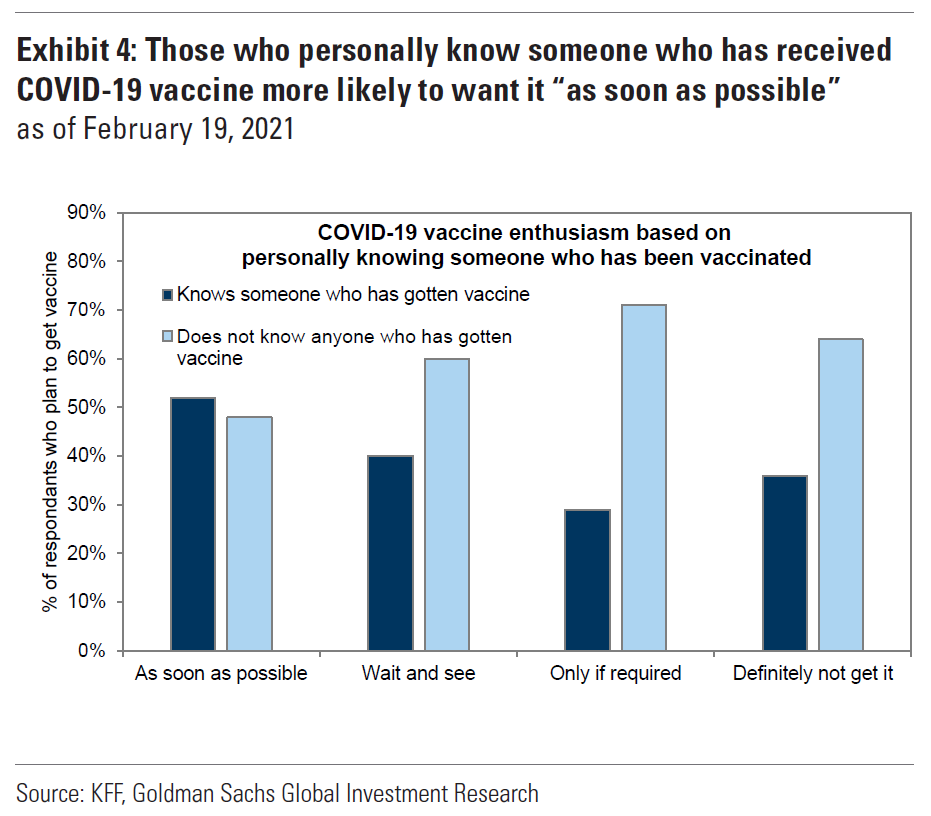 In continental Europe, where people are turning up their noses at the AstraZeneca Plc vaccine, the wait for alternatives is increasing hesitancy. In the U.K., where the program is rolling out quickly, there appears to be less hesitancy, and scare stories about some of the unpleasant initial side effects appear to have less impact — although there are still people who apparently want the right to choose an Oxford vaccine rather than a foreign one. So the evidence seems to be that resistance should dissolve once the campaign gets under way — but also that any delays getting programs started could lead to even later completion. What central bankers say will always matter to markets; but there are still critical decisions to be made by those overseeing the vaccine rollout.
Survival Tips
Senator Ted Cruz took a brief vacation in Cancun last week as his home state of Texas was hit by a blizzard and widespread power outages, and he has taken a pounding for it. He deserves it, because it was politically tone-deaf.
But Cruz also deserves some criticism for his choice of sun-spot. Mexico is a great country with plenty of places to hit the beach. Why on earth go to the artificial concrete fortress of Cancun? My own recommendations, from four years living in the country, would be some of the resorts on the Pacific coast, such as Huatulco in the state of Oaxaca (a purpose-built resort like Cancun, set into the rainforest, which luckily has never attracted as much tourist traffic and has remained relatively unspoilt), or Troncones in the state of Guerrero, a relatively undeveloped spot with a long sward of sand and excellent surf. 
Frankly, anywhere in Mexico with some sea and sand where you can hitch a hammock would be good at present. As international travel is still a tad irresponsible, here are some suggested movies to give you a sense of Mexico:
Co-Co (an animated work of art for all the family);
Seco, Pudor y Lagrimas (a brilliant and provocative dark comedy set in Mexico City, with a wonderfully haunting theme);
Roma (the masterpiece evoking Mexico's capital in the 1960s that should plainly have beaten the risible Green Book for best film at the Oscars a few years ago); and 
Man on Fire (Denzel Washington as an avenging angel on the trail of a Mexican kidnapper; a nightmarish and violent underworld thriller that many Mexican friends hated, but which seemed pretty true to life to me). 
Like Bloomberg's Points of Return? Subscribe for unlimited access to trusted, data-based journalism in 120 countries around the world and gain expert analysis from exclusive daily newsletters, The Bloomberg Open and The Bloomberg Close.
Before it's here, it's on the Bloomberg Terminal. Find out more about how the Terminal delivers information and analysis that financial professionals can't find anywhere else. Learn more.
You received this message because you are subscribed to Bloomberg's Points of Return newsletter.
Unsubscribe | Bloomberg.com | Contact Us
Bloomberg L.P. 731 Lexington, New York, NY, 10022