Same Plusy!
Niepodam.pl nie wymaga rejestracji, aktywacji, nie wysyła SPAMU!
Nie dostaniesz spamu na swoją prywatną skrzynkę E-mail
Nigdy nie usuniemy Twojej skrzynki i będziesz mógł przypomnieć sobie hasło do innej strony kiedy chcesz
Używając aliasów nikt inny nie będzie wiedział jakiego użyłeś loginu do naszego serwisu
Nowe! W dowolnym formularzu rejestracyjnym użyj adresu rozpoczynającego się na a_ (np. a_tomek@niepodam.pl) a Twój link aktywacyjny zostanie automatycznie kliknięty.
MapLab: Maps that muddy the message
Wiadomość od:

citylab@bloomberg.net


odebrana:

2021-01-14 01:00:54
Treść wiadomości:
As Covid-19 spreads uncontrolled across the U.S. amid a slow vaccine rollout, what would compel more people to don masks, avoid indoor gatherings and exercise social distancing? Based on the results of one survey, probably not maps. 
New research published in JAMA Network Open suggests that while some maps can successfully communicate infection rates, they seem to have little impact on intentions to follow public health guidance, and some maps might actually undermine perceptions of risk. 
That includes familiar resources for visualizing the pandemic, such as the New York Times, the Centers for Disease Control and Prevention, and Johns Hopkins University's Covid-19 data dashboard. 
"We need a better understanding of how to use maps effectively, because they're not having an impact in the way you would hope," said Angela Fagerlin, a professor of population health sciences at the University of Utah, research scientist at the Salt Lake City Veterans Affairs office and senior author of the new paper. 
In May, Fagerlin and her colleagues surveyed a diverse sample of 2,676 U.S. residents, showing one of six maps that used different visualization styles and tabulations (shown below), then asking respondents about their knowledge of Covid's spread and infection risks, as well as their intended health behavior. A control group was shown no maps, and these respondents were instead asked about their knowledge of the pandemic independent of any informational aid.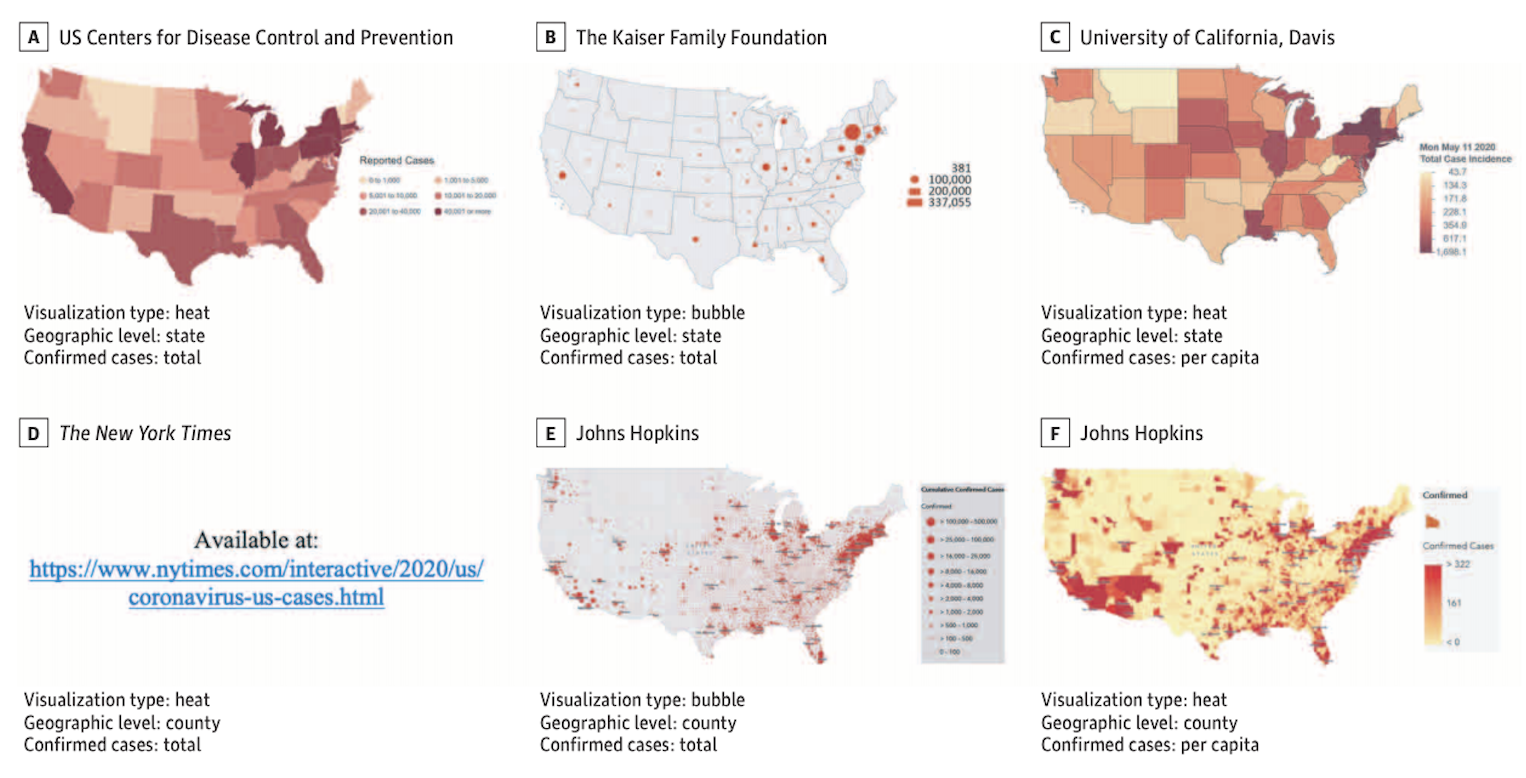 JAMA Network Open
The results yielded at least one practical finding for mapmakers. Compared to bubble maps (e.g., maps B and E) and maps that showed total cases (e.g., maps A and E), heat maps that showed per capita case rates (e.g., maps C and F) were associated with slightly better knowledge about the virus's prevalence. 
But not all maps were helpful. In fact, respondents who did not see a map scored about the same on their pandemic knowledge as respondents who saw any of the six maps. Stranger still, maps that displayed total case numbers actually seemed to erode respondents' pre-existing knowledge. None of the maps had any measurable effect on whether respondents intended to follow public health guidelines, and all of them were associated with reduced perceptions of the pandemic's serious risks and awareness of infection trends.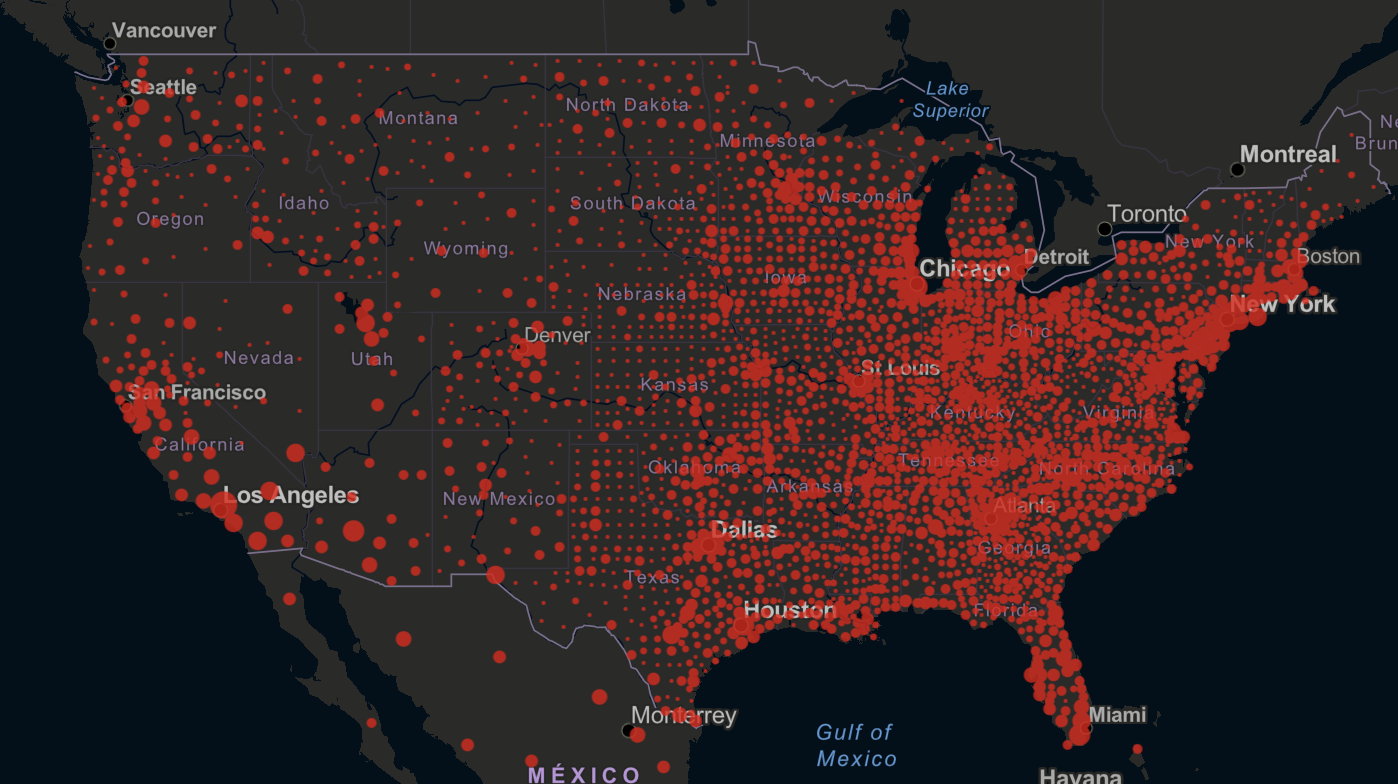 Courtesy of Johns Hopkins University
"Respondents who saw a map had lower societal risk perceptions, with more optimism that the pandemic would be better in 2 weeks, compared with those who did not," the researchers wrote. And none of the maps had any apparent effect on whether respondents intended to follow public health guidelines. 
While Fagerlin isn't sure how to explain these results, they mirror those of an earlier survey about communicating flu infection risk that she conducted among 16,000 adults in 11 European countries. There, heat maps were also shown to succeed in conveying information, but there was little evidence that any map influenced how people intended to behave — specifically, whether they planned to get a flu vaccine. Such findings affirm a broader point that social scientists have understood for decades, Fagerline said — and arguably, one that is simultaneously playing out in America's political arena. When making personal decisions, most people heed their emotions, not data.
"For a lot of us, pure numbers might not matter as much as things like peer groups, social norms and what people you admire are saying to do," she said. "That doesn't mean you shouldn't present numbers, but we need to acknowledge that many people don't use them in the ways that some of us do." 
For communicators seeking an end to the pandemic, messages that address barriers to safe behaviors may resonate better than graphics and maps on their own, Fagerlin said. Equally important — yet perhaps most difficult in a polarized society — is finding the right messenger to convey them.
Map links
Stay healthy, stay safe. Sign up for MapLab.
Laura Bliss
| | |
| --- | --- |
| Follow Us | Get the newsletter |
You received this message because you are subscribed to Bloomberg's CityLab MapLab newsletter.
Unsubscribe | Bloomberg.com | Contact Us
Bloomberg L.P. 731 Lexington, New York, NY, 10022