Same Plusy!
Niepodam.pl nie wymaga rejestracji, aktywacji, nie wysyła SPAMU!
Nie dostaniesz spamu na swoją prywatną skrzynkę E-mail
Nigdy nie usuniemy Twojej skrzynki i będziesz mógł przypomnieć sobie hasło do innej strony kiedy chcesz
Używając aliasów nikt inny nie będzie wiedział jakiego użyłeś loginu do naszego serwisu
Nowe! W dowolnym formularzu rejestracyjnym użyj adresu rozpoczynającego się na a_ (np. a_tomek@niepodam.pl) a Twój link aktywacyjny zostanie automatycznie kliknięty.
Supply Lines: 224 billion masks
Wiadomość od:

noreply@mail.bloombergbusiness.com


odebrana:

2021-01-14 13:31:00
Treść wiadomości:
China's export boom headed into the new year on a tear and all indications are that it may continue for several more months.
Consider this: Chinese factories exported 224 billion masks from March through December, or almost 40 for every man, woman and child on the planet outside of China, Li Kuiwen, an official from the General Administration of Customs, told reporters Thursday. The shipments were worth 340 billion yuan ($53 billion), which is about 2% of all Chinese exports in 2020.
Chinese firms also exported almost 100 billion-yuan worth of other personal protective equipment like hospital suits, gowns and ventilators, Li said. In total, exports of medical equipment and medicines rose 31% last year compared with 2019, he said.
It's not just health supplies. The surging coronavirus in advanced economies is fueling demand for all the stuff people need to work, learn and entertain from home.
Asia's China-led trade bonanza is eventually expect to wane, provided outbreaks are tamed and demand for services like tourism and hospitality rebound. For now though, China's factories are running full tilt, which will make Monday's release of the country's fourth-quarter GDP data even more interesting to dissect.
Fed Sees 'Challenges'
Meanwhile, several major economies are importing way more than their ports can handle. The situation is getting so dire that cargo congestion on the high seas, once considered a seasonal phenomenon, is starting to look more like an economic headwind.
The Federal Reserve on Wednesday made another notable mention of rising shipping costs in the national summary of its Beige Book report the U.S. economy. In the Chicago district, "e-commerce sales remained strong, but growth plateaued, in part because of shipping challenges."
Such difficulties are only worsening on the West Coast, where nearly three dozen container ships are waiting to dock at the two ports in Los Angeles.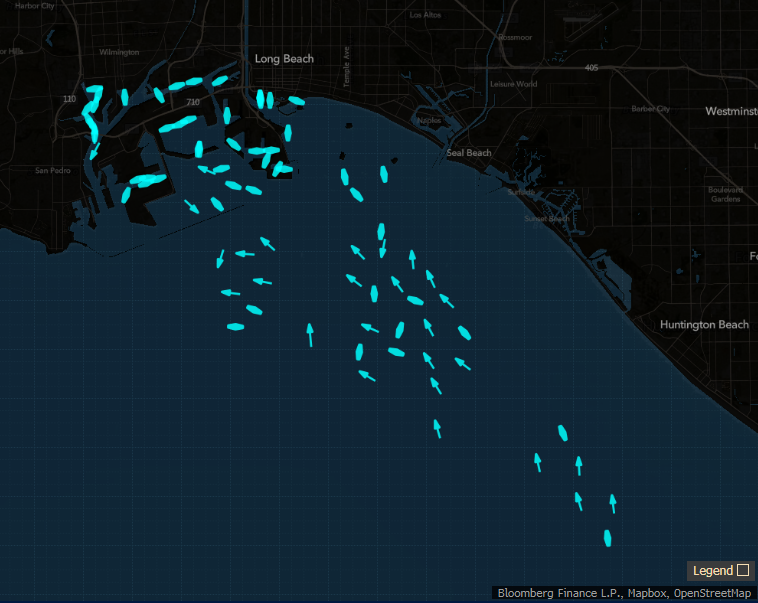 Similar flotillas have formed around Europe's main gateways for goods trade — Rotterdam, Antwerp and Hamburg. Felixstowe, a key container port in the U.K. that's been roiled by Brexit backlogs, says "current high volumes are expected to last well into the first quarter."
—Enda Curran in Hong Kong
Charted Territory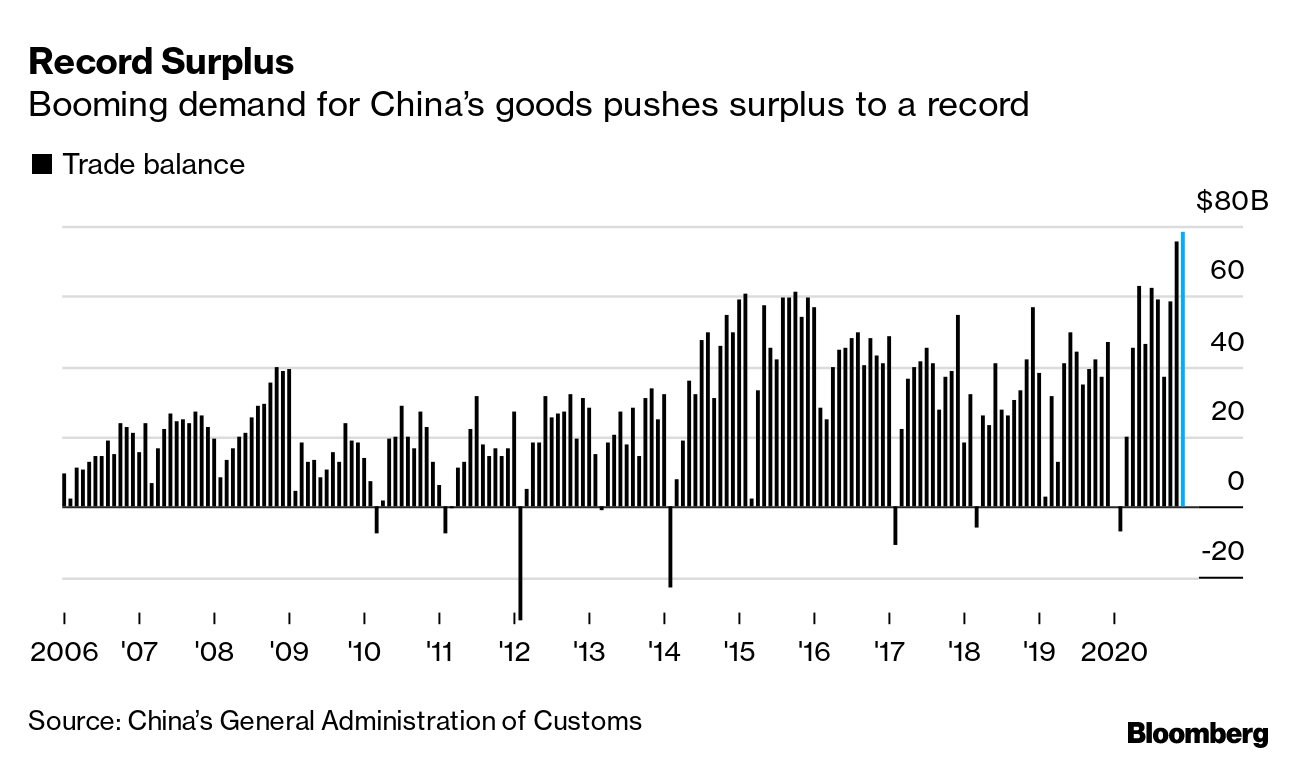 China's export boom continued into December, pushing the trade surplus to a record high in the month and bolstering what is already the world's best-performing major economy.
Today's Must Reads
On the Bloomberg Terminal
Like Supply Lines?
Don't keep it to yourself. Colleagues and friends can sign up here. We also publish Balance of Power, a daily briefing on the latest in global politics.
For even more: Follow @economics on Twitter and subscribe to Bloomberg.com for unlimited access to trusted, data-driven journalism and gain expert analysis from exclusive subscriber-only newsletters.
How are we doing? We want to hear what you think about this newsletter. Let our trade tsar know.
You received this message because you are subscribed to Bloomberg's Supply Lines newsletter.
Unsubscribe | Bloomberg.com | Contact Us
Bloomberg L.P. 731 Lexington, New York, NY, 10022