Same Plusy!
Niepodam.pl nie wymaga rejestracji, aktywacji, nie wysyła SPAMU!
Nie dostaniesz spamu na swoją prywatną skrzynkę E-mail
Nigdy nie usuniemy Twojej skrzynki i będziesz mógł przypomnieć sobie hasło do innej strony kiedy chcesz
Używając aliasów nikt inny nie będzie wiedział jakiego użyłeś loginu do naszego serwisu
Nowe! W dowolnym formularzu rejestracyjnym użyj adresu rozpoczynającego się na a_ (np. a_tomek@niepodam.pl) a Twój link aktywacyjny zostanie automatycznie kliknięty.
Brussels Edition: Protecting democracy
Wiadomość od:

noreply@mail.bloombergbusiness.com


odebrana:

2021-02-23 07:18:32
Treść wiadomości:
| | |
| --- | --- |
| Follow Us | Get the newsletter |
Welcome to the Brussels Edition, Bloomberg's daily briefing on what matters most in the heart of the European Union.
Democracy is "being challenged" by the coronavirus crisis, European affairs ministers were told in a preparatory note ahead of a call today. As the EU keeps extending recession-inducing lockdowns — in stark contrast with the apparent efficiency of China's response — the risk of a popular backlash against the missteps in managing the pandemic has alarmed governments. On the call's agenda is a discussion about a European Democracy Action plan proposed by the Commission ahead of the next EU elections. The plan will include legislative overhauls in the funding of European parties, more transparency in political advertising and toughening the moderating requirements for online platforms to clampdown on disinformation. You will be hearing a lot about the EU's focus on safeguarding its democracy from perceived external threats in the next two years, although some would argue there are more enemies inside the gates. 
— Nikos Chrysoloras and Viktoria Dendrinou
What's Happening
Post-Apocalypse | Ministers will also wrap up preparations for the video summit of EU leaders on Thursday, when the next steps in the fight against the pandemic will dominate discussions. For a glimpse of what the new normal will look like — after the EU finally gets its vaccinations campaign on track — check out our dispatch from Israel, which has vaccinated a higher proportion of its population than any other country.
More Lockdowns | But the EU is not anywhere close to a normal for now. "The epidemiological situation remains serious, and the new variants pose additional challenges. We must therefore uphold tight restrictions," EU leaders will say on Thursday, according to the latest draft of their joint statement that ministers will discuss today. "For the time being, non-essential travel needs to be restricted," leaders will say, according to the draft we've seen.
Telecoms Competition | Ericsson and Nokia are thriving in markets including the U.S. and the U.K since their powerful Chinese competitors were barred from 5G wireless supply deals worth tens of billions of dollars. But the virtual duopoly Europe's telecom equipment makers are enjoying won't last forever. Here's why.
German Spending | Germany is weighing as much as 50 billion euros in additional debt spending to fight the fallout from the coronavirus. The funding reflects an initial estimate, and we're told it's still unclear if the money will be needed in the end. The likely boost comes as the country's contagion rate has inched up in recent days, suggesting Germany's efforts to exit pandemic restrictions will be gradual.
In Case You Missed It
Virus Update | Boris Johnson outlined his plan for lifting the lockdown in England, prioritizing the return of schools and outdoor activities over reopening stores, bars and restaurants. The WHO said it's seen some positive signs but cautioned against easing curbs too quickly, while a study in Scotland found vaccination reduced the risk of hospitalization from Covid-19 by more than 80%. Here's the latest. 
Fresh Sanctions | The EU is set to sanction Russian officials over the jailing of Alexey Navalny, a step that marks a new low in relations with Russia. Still, the narrow focus of the punitive measures won't have a material impact on the Russian economy, potentially allowing channels of communication between Europe and the Kremlin to stay open.
Yield Watch | The ECB is closely monitoring nominal bond yields to judge whether financing conditions in the euro area are favorable enough to support the economy during the pandemic, President Christine Lagarde said yesterday. Her comments signal possible concern that longer-term bond yields have been rising despite the ECB's pledge to keep ultra-loose financing conditions locked in.
Celestial EU | The EU unveiled several programs aimed at boosting the bloc's civil, space and defense industries, including a low-orbit satellite network to rival Elon Musk's Starlink. Natalia Drozdiak has the details.
Chart of the Day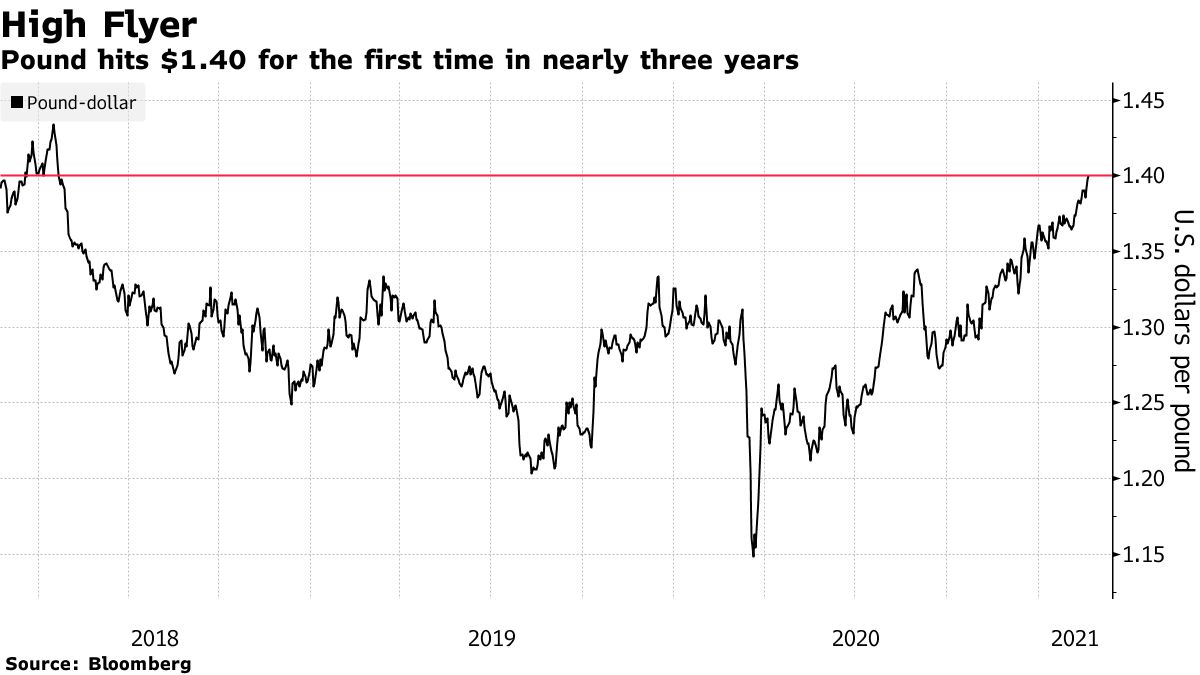 A world-leading vaccine campaign is bringing U.K. markets back to life. The pound has rallied faster than any other major currency this year and British companies have been enjoying a borrowing bonanza that's looking historic. Vaccines aren't just good at saving lives, they're also buoying investment.   
Today's Agenda
All times CET.
9:30 a.m. Commission Executive Vice-President Margrethe Vestager takes part in a hearing at the European Parliament
10 a.m. Kim Jørgensen, head of Vestager's cabinet, speaks at EPC event on Artificial Intelligence
10 a.m. EU General Affairs Council in Brussels, European Affairs ministers to discuss EU-U.K. relations at conference on the future of Europe
2:45 p.m. European Parliament holds hearing with ESMA Chair Steven Maijoor and the Commission's Ugo Bassi over GameStop
5 p.m. EU foreign policy chief Josep Borrell speaks at Atlantic Council event
5:45 p.m. Vestager discusses digital regulation at the European Parliament 
The EU Parliament's industry committee to discuss the latest developments on the construction of Nord Stream 2
Commission President Ursula von der Leyen delivers the opening speech at the EU Industry Days 2021
Like the Brussels Edition?
Don't keep it to yourself. Colleagues and friends can sign up here.
For even more: Subscribe to Bloomberg.com for unlimited access to trusted, data-driven journalism and gain expert analysis from exclusive subscriber-only newsletters.
How are we doing? We want to hear what you think about this newsletter. Let our Brussels bureau chief know.
Before it's here, it's on the Bloomberg Terminal. Find out more about how the Terminal delivers information and analysis that financial professionals can't find anywhere else. Learn more.
You received this message because you are subscribed to Bloomberg's Brussels Edition newsletter.
Unsubscribe | Bloomberg.com | Contact Us
Bloomberg L.P. 731 Lexington, New York, NY, 10022