Same Plusy!
Niepodam.pl nie wymaga rejestracji, aktywacji, nie wysyła SPAMU!
Nie dostaniesz spamu na swoją prywatną skrzynkę E-mail
Nigdy nie usuniemy Twojej skrzynki i będziesz mógł przypomnieć sobie hasło do innej strony kiedy chcesz
Używając aliasów nikt inny nie będzie wiedział jakiego użyłeś loginu do naszego serwisu
Nowe! W dowolnym formularzu rejestracyjnym użyj adresu rozpoczynającego się na a_ (np. a_tomek@niepodam.pl) a Twój link aktywacyjny zostanie automatycznie kliknięty.
5 things to start your day
Wiadomość od:

noreply@mail.bloombergbusiness.com


odebrana:

2021-02-23 12:54:41
Treść wiadomości:
| | |
| --- | --- |
| Follow Us | Get the newsletter |
Tech stocks hit, reflation trade continues, and Powell testimony due. 
Bets off 
The stock market's highest flyers remain under pressure this morning. Futures for the tech-heavy Nasdaq 100 dropped 1.5%, after the index slumped 2.6% in trading yesterday on a selloff in some of the hottest pandemic buys such as Peloton Interactive Inc. which sank 10%. Tesla Inc. shares are set to tumble again at the open with futures trading well south of $700. CEO Elon Musk's bet on Bitcoin also took a hit with the cryptocurrency dropping significantly again this morning.  
Reflation 
Positioning for a global economic recovery remains the dominant market theme, with developed-market bond yields rising again. The Bloomberg Commodity Spot Index, which tracks price movements for 23 raw materials, rose to its highest since March 2013 yesterday. Crude is also rising, with a barrel of West Texas Intermediate for April delivery at $62.36 by 5:50 a.m. Eastern Time. S&P 500 futures pointed to a drop at the open.
Powell 
With everything going on, traders will be glued to Fed Chair Jerome Powell's testimony to the Senate Banking Committee today. He is likely to cite the millions of Americans still out of work due to the pandemic and repeat that the Federal Reserve is not thinking of withdrawing support any time soon. He will also almost certainly face questions over the inflationary risk posed by the proposed stimulus plan, with asset prices already elevated. His testimony begins at 10:00 a.m. 
500,000
The U.S. passed the grim milestone of half a million deaths from the pandemic yesterday, with global fatalities nearing 2.5 million. While hospitalizations and deaths have fallen from the January peak, President Joe Biden emphasized the need for continued mask-wearing and social distancing at a White House ceremony marking the toll yesterday. On the vaccination front, there is growing evidence of their effectiveness, while AstraZeneca Plc's Covid-19 antibody cocktail has proved effective against variants of the virus in early testing.
Coming up... 
December FHFA and S&P CoreLogic house price numbers are at 9:00 a.m. Conference Board consumer confidence and Richmond Fed Manufacturing for February are at 10:00 a.m. International Petroleum Week begins. Home Depot Inc., Macy's Inc., Toll Brothers Inc. and CoStar group Inc. are among the companies reporting results. 
What we've been reading
This is what's caught our eye over the last 24 hours.
And finally, here's what Joe's interested in this morning
ICYMI, here's a headline that ran yesterday on the terminal:

*ROYAL CARIBBEAN NEW BOOKINGS +30% THIS YEAR VS. NOV.-DEC.: CFO
And here's a chart of Royal Caribbean.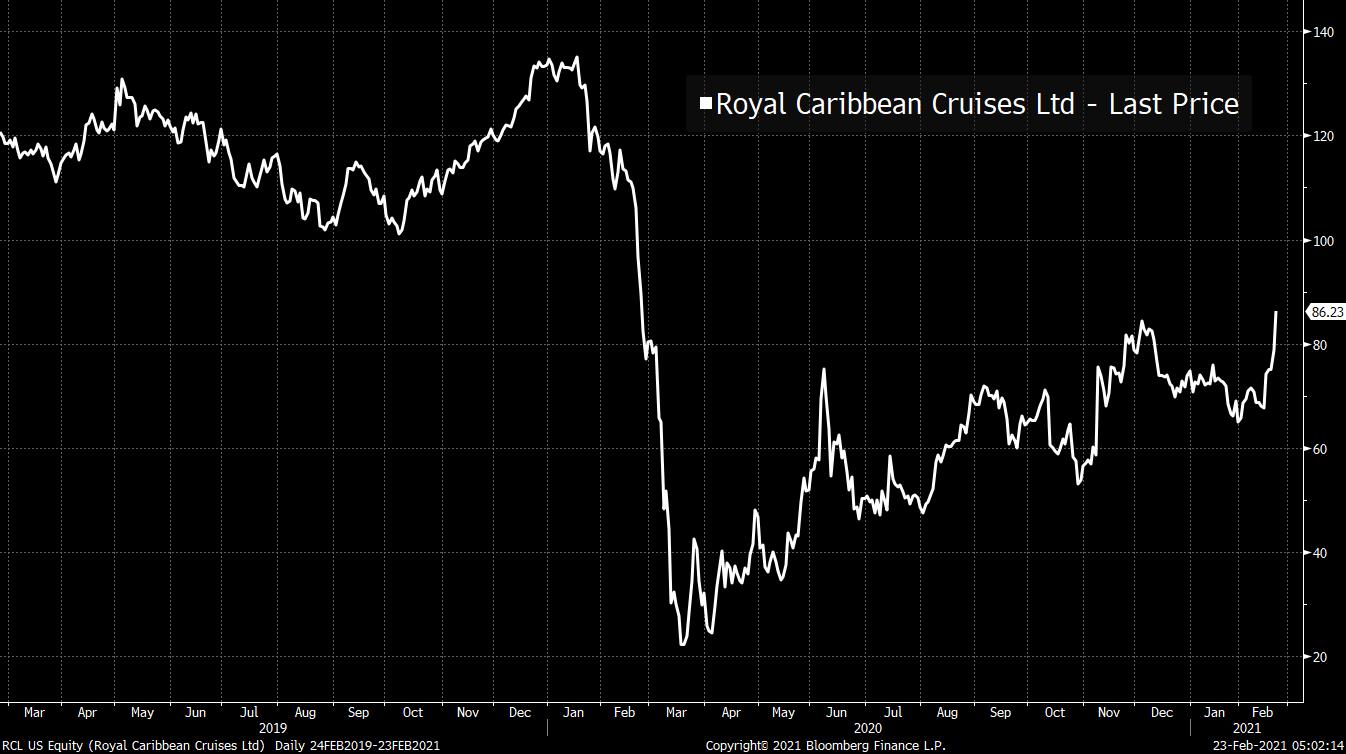 It's still not at pre-crisis levels. But it's basically quadrupled from the lows back in March. The virus is still here and yet people are ready to go back on cruises again. BTW, it's not just that people are ready to go back on cruises. People are ready to go back to concerts too. Shares of Live Nation are at all-time highs. And they're ready to go back to theme parks. Shares of Six Flags are basically above their pre-crisis levels. And people are ready to back to steakhouses aimed at business travelers. Shares of Ruth's Hospitality (owner of Ruth's Chris) have totally erased their pandemic losses. And people are ready to go back to "nightclubs offering adult entertainment." Shares of RCI Hospitality (Ticker: RICK) have been on an unbelievable run.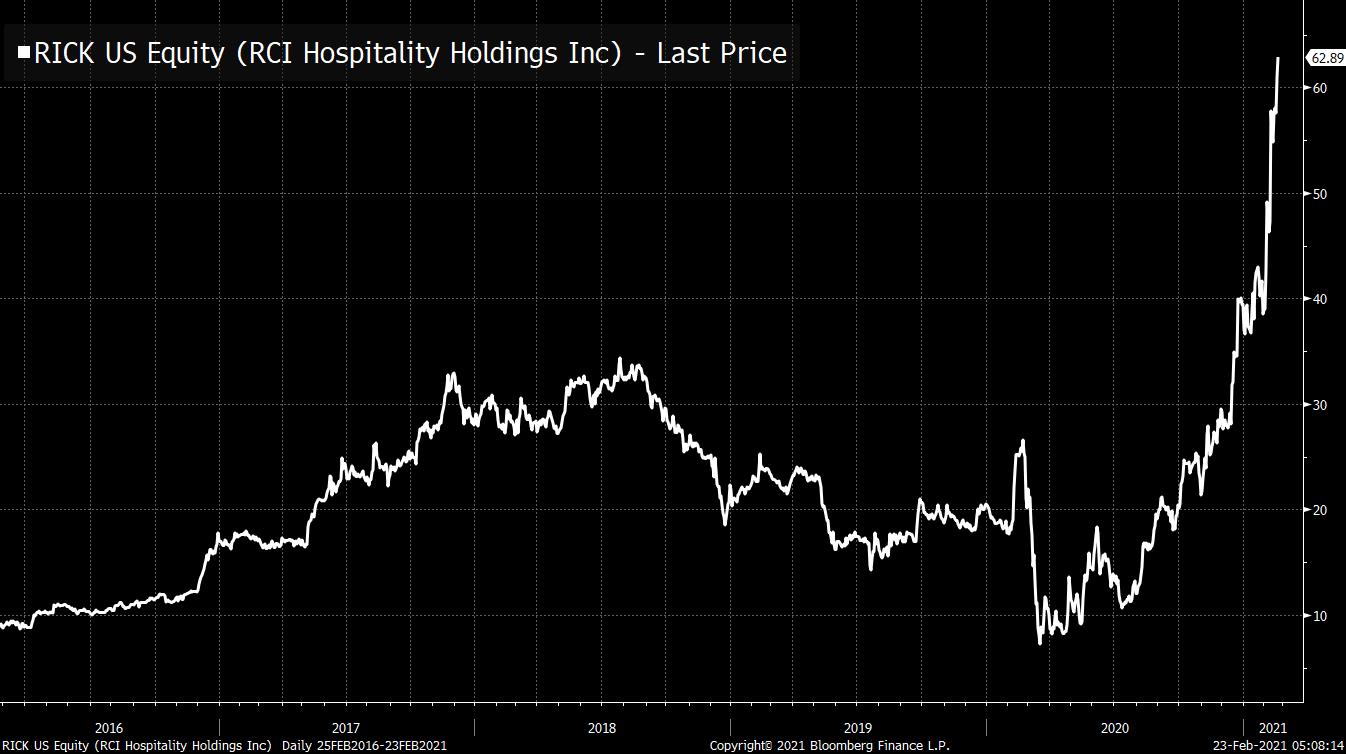 Anyway, the point is not that the "reopening trade" is red-hot these days (though it is). But that if you go back to about 11 months ago, there was all this talk about how bailouts and Fed credit backstops were going to prop up "zombie companies" and that it was some mortal sin against capitalism to circumvent the process of creative destruction. Well it turned out that there was nothing broken about these business models. They weren't zombies sucking up potentially productive capital, depriving land and labor from companies that needed it. They were just massively disrupted by a once-in-a-century pandemic.
To sound savvy, people like to repeat the line "capitalism without failure is like religion without sin" and there's some truth to that in theory. Suppose that for the last 10 years, the Fed had been providing cheap credit to Blockbuster, allowing thousands of video stores to stay afloat, even in the presence of streaming. And suppose there was a lot of demand for that real estate and those retail workers that Blockbuster was hoarding with its cheap money and unproductive assets. Then you could say that it was acting drag on the economy (perhaps). But that's obviously an alternate reality that's got no resemblance to our own.
Contrary to that, it appears there's going to be huge demand for the enterprises that were crushed during the pandemic, especially once everyone is ready to go outside. And if the economy had been left to spiral downward last March, without grants and credit, we wouldn't have them here now to satisfy that demand. Ironically, if Congress and the Fed hadn't sprung into action so fast, inflation today would likely be worse, because we'd already be running into the limits of our (diminished) productive capacity.
There's nothing about these companies that resemble the Blockbuster scenario above. No zombies sucking up scarce capital. Perhaps the thing that comes the closest might be the dozens or hundreds of VC or SPAC-backed startups in areas like electric vehicles that may be depriving productive incumbents of talent and technology. But nobody's supposed to call that a problem. That's just the innovation economy at work.
Joe Weisenthal is an editor at Bloomberg. 
Like Bloomberg's Five Things? Subscribe for unlimited access to trusted, data-based journalism in 120 countries around the world and gain expert analysis from exclusive daily newsletters, The Bloomberg Open and The Bloomberg Close.
Before it's here, it's on the Bloomberg Terminal. Find out more about how the Terminal delivers information and analysis that financial professionals can't find anywhere else. Learn more.
You received this message because you are subscribed to Bloomberg's Five Things newsletter.
Unsubscribe | Bloomberg.com | Contact Us
Bloomberg L.P. 731 Lexington, New York, NY, 10022