Same Plusy!
Niepodam.pl nie wymaga rejestracji, aktywacji, nie wysyła SPAMU!
Nie dostaniesz spamu na swoją prywatną skrzynkę E-mail
Nigdy nie usuniemy Twojej skrzynki i będziesz mógł przypomnieć sobie hasło do innej strony kiedy chcesz
Używając aliasów nikt inny nie będzie wiedział jakiego użyłeś loginu do naszego serwisu
Nowe! W dowolnym formularzu rejestracyjnym użyj adresu rozpoczynającego się na a_ (np. a_tomek@niepodam.pl) a Twój link aktywacyjny zostanie automatycznie kliknięty.
The Fed's not freaking out about inflation, and neither should you
Wiadomość od:

noreply@mail.bloombergview.com


odebrana:

2021-02-23 22:33:40
Treść wiadomości:
| | |
| --- | --- |
| Follow Us | Get the newsletter |
This is Bloomberg Opinion Today, an inflation-protected security of Bloomberg Opinion's opinions. Sign up here.
Today's Agenda
The Market Kids Are Alright
Fed Chairman Jerome Powell spoke in Congress today, which are words that are very boring to type. It wasn't even the day's most interesting congressional hearing. But with trillions of dollars hanging in the balance, every Powell utterance carries the weight of at least one (1) stimulus package. 
And Powell did not disappoint. He was sanguine about a recent jump in long-term bond yields and didn't do anything dumb, such as hinting he'd sway one iota from giving the economy full gas, writes Brian Chappatta. Short-term interest rates haven't moved, and even long-term rates are barely above epochal lows. And they're likely forecasts of a stronger economy ahead, not some sign hyperinflation is about to travel here in a time machine from the '70s.
The outlook for the economy is certainly looking rosy, thanks to Covid vaccinations and stimulus spending. But it's still uncertain, which means Powell and his peers around the world will keep giving markets what they want, writes John Authers. 
Inflation should in fact come back from the dead this year, but, as with slightly higher bond yields, this is just a symptom of economies springing back to life and nothing to worry about, writes Bill Dudley. It will take a long time to return the economy to full health, and longer still to build an inflationary juggernaut. 
With everything this wonderful, it's the perfect time to buy stocks, you might think. Nope. It's actually the perfect time to sell them, writes Jared Dillian. This is based on the thesis that the best portfolio-management strategy is the George Costanza model: Take whatever your instinct is and do the opposite. When the going gets easy is when the smartest investors make like Costanza and flee the room.
We often compare markets to children who are prone to throw tantrums, when they are in fact populated by grown adult humans that own houses and sometimes boats. Adults do get upset when markets go down, preventing them from buying more houses and boats. But if bonds and even stocks fall on stronger growth, then that's actually a sign of maturity.  
Further Markets Reading:  Canada just approved a Bitcoin ETF. What's keeping the SEC? — Mark Gilbert 

Paid Post
Highest Paying Cash Back Card Is Here. $200 bonus offer. 3% cashback choice on every category we love, including online shopping, dining, travel, gas, and more. No annual fee. 0% interest until 2022. Learn more today!
Sprechen Zie New Cold War
Yesterday we wrote about the prospects of having a fun, hip cold war for a new generation, this time with China. We also noted it would once again take strong alliances to help the U.S. win. One of America's biggest allies in Cold War I was Germany (the western bits). Unfortunately, the current version of Germany isn't eager to commit to another buddy movie, writes Hal Brands. Some of this is due to the legacy of the first cold war, which Germans think was won by charming the opposition. Some of it is also the fact that Germany simply sells a lot of stuff in China. The U.S. is going to have to be pretty charming itself if it wants to woo Berlin fully to its side.
It doesn't help America's cause that China is doing a much better job sharing its Covid vaccine with the world than Western nations are, as Lionel Laurent notes. Even Cold War I heel Russia is running circles around most of its old opponents. Part of America's charm offensive must involve matching that soft power with its own. 
Further Cold War II Reading: 
For Your Health
Life expectancy worsened dramatically in the U.S. last year, as did the lifespan gap between rich and poor and Black and White Americans, writes Peter Orszag. And you can't just blame the coronavirus and its K-shaped pandemic and recession. Much of it was people simply not going to the doctor for months on end. Just in case you weren't sure that was bad.
Even without a pandemic, millions of Americans forgo life-saving routine health care because they can't afford it. To that end, Bloomberg's editorial board writes, President Joe Biden and Congress should undo as much of the damage Donald Trump did to the Affordable Care Act as they can, as quickly as they can, and then strengthen it, so it can affordably insure more people.
Bonus Policy Reading: Making minimum wage increases automatic, as a Republican proposal suggests, would hurt the labor market. — Michael Strain 
Telltale Charts
China tried to emulate South Korea's chaebol system to build industrial conglomerates, but its efforts are failing, partly because they have the wrong ambitions, writes Shuli Ren.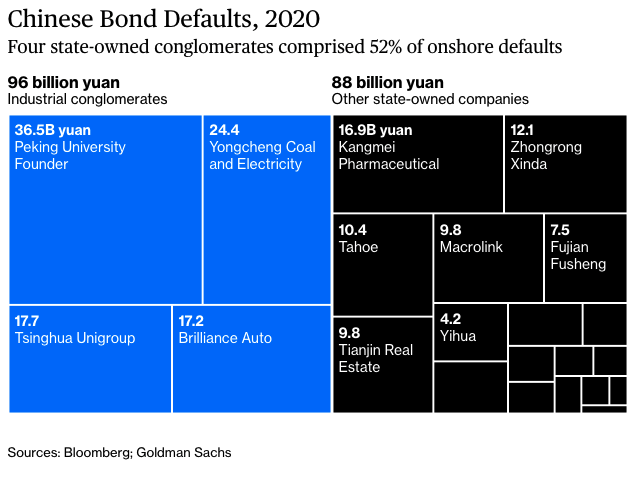 Hoping to catch the next Tesla, investors bid up a Michael Klein SPAC that was buying Lucid Motors. Now that the deal has been announced and Lucid's financials are out, investors realize to their chagrin they've got the setting-all-the-cash-ablaze version of Tesla, writes Chris Bryant.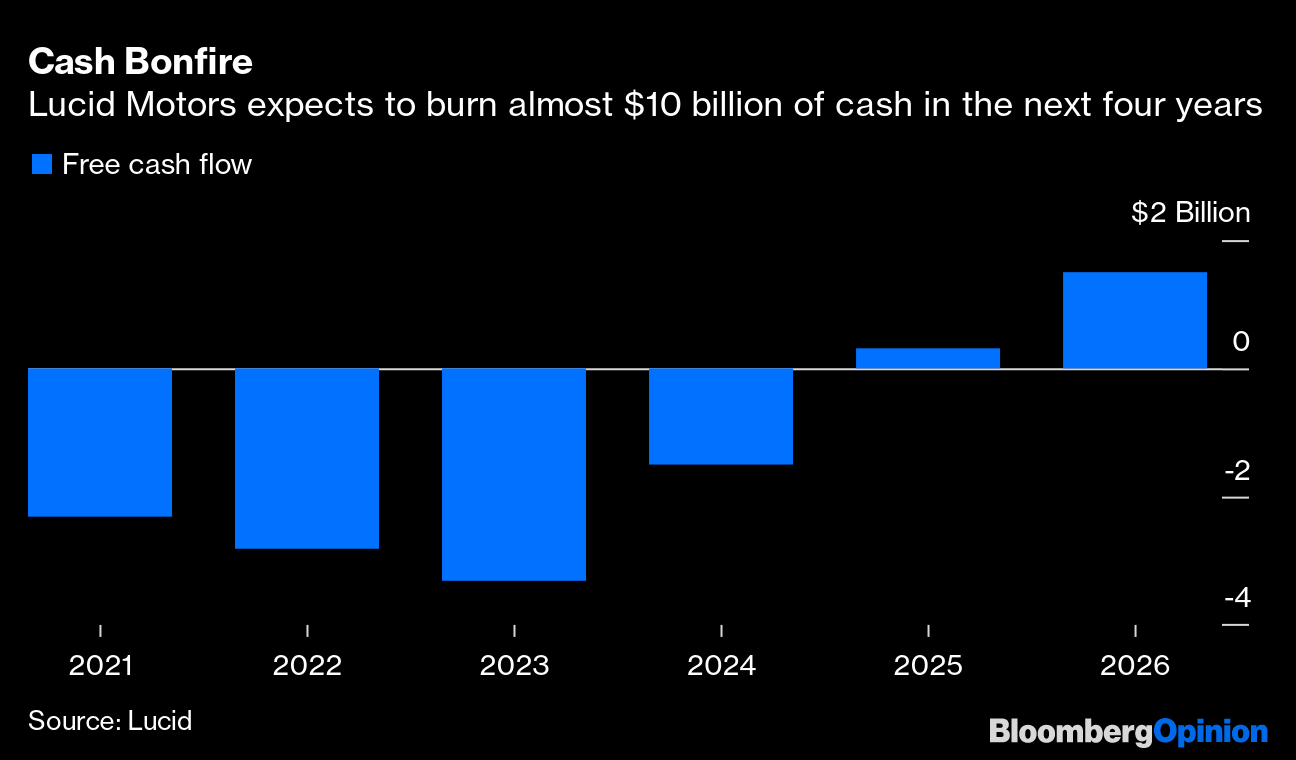 Further Reading
Federalism is an idea whose time has definitely passed, as Covid, the Texas freeze and other crises demonstrate. — Noah Feldman 
A California lawsuit could encourage more people to sue for contracting Covid from their spouses' workplaces. — Stephen Carter 
Joe Biden can't take military action off the table with North Korea. — John Bolton 
Home Depot and Macy's both warned pandemic shopping patterns may be lasting. — Sarah Halzack 
Mexico is blowing its shot to make its huge auto sector a winner in the shift to EVs. — Shannon O'Neil 
Jay-Z's champagne sale shows it's often more lucrative for celebs to keep their names off their brands. — Alex Webb 
ICYMI
Elon Musk tweeted away $15 billion yesterday.
Tiger Woods got in a car accident.
More vaccine doses are coming. 
Kickers
Miners find 65-million-year-old opalized pearls.
Noise pollution hurts the heart.
Scientists get dreaming sleepers to answer questions.
105-year-old Covid survivor credits gin-soaked raisins for her health.
Note:  Please send opalized pearls and complaints to Mark Gongloff at mgongloff1@bloomberg.net.
Sign up here and follow us on Twitter and Facebook.
Like Bloomberg Opinion Today? Subscribe to Bloomberg All Access and get much, much more. You'll receive our unmatched global news coverage and two in-depth daily newsletters, The Bloomberg Open and The Bloomberg Close.
Before it's here, it's on the Bloomberg Terminal. Find out more about how the Terminal delivers information and analysis that financial professionals can't find anywhere else. Learn more.
You received this message because you are subscribed to Bloomberg's Bloomberg Opinion Today newsletter.
Unsubscribe | Bloomberg.com | Contact Us
Bloomberg L.P. 731 Lexington, New York, NY, 10022